Our Fishing Series hydraulic transom brackets allow you access to places you could never go before.
"The Porta Transom Bracket is unique in that it's hydraulic and can accommodate from one to six high-horsepower outboard motors. Hydraulics allow raising the engine completely out of the water. With adjustable motor height, the helmsman can fine-tune gearcase height for fast flying, or shallow running across the flats."
Southern Boating, August 2001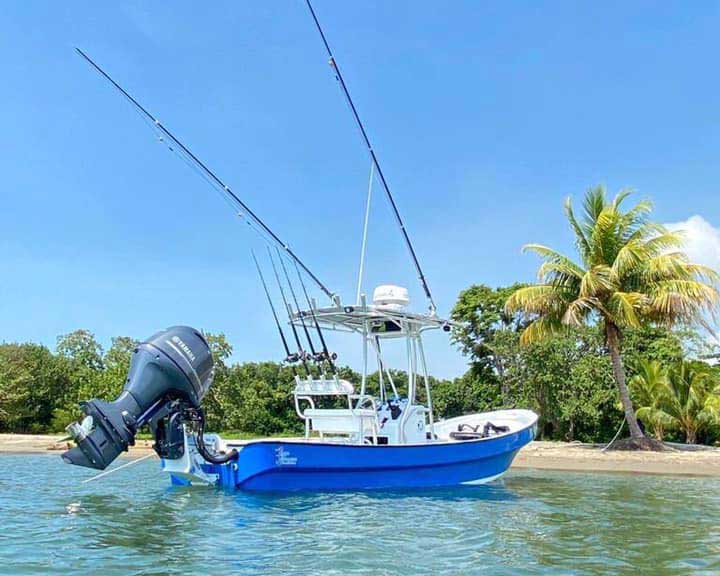 Too shallow? Not anymore…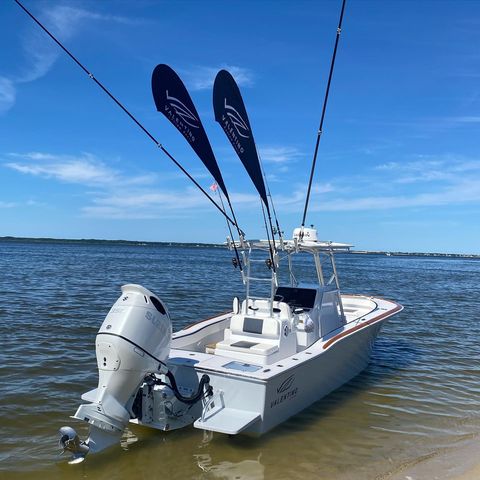 Ready to "raise" your game to the next level?
Our sales reps will help you identify the perfect fit for your boat. Send us a few simple measurements from your transom and we will take it from there!
This list consists of our commonly used brackets for single, twin, and triple engines. We are able to engineer brackets up to six engines. Please contact us directly at 386-428-7417 for larger brackets and we will be happy to provide a quote for your application.
FOR ENGINES WEIGHING 800 LBS OR MORE PLEASE SHOP OUR INDUSTRIAL/COMMERCIAL SERIES.
| Transom Height Requirements | Model # | Set-Back | Vert Lift | Max HP | Req Width | Retail Price |
| --- | --- | --- | --- | --- | --- | --- |
| 20″ to 32″  | 171715 | 17″ | 12″ | 200 | 15″ | 4356.00 |
| 20″ to 32″  | 171722 | 17″ | 12″ | 300 | 22″ | 4968.00 |
| 20″ to 32″  | 171915 | 17″ | 12″ | 300 | 15″ | 4297.00 |
| 20″ to 32″  | 171719 | 17″ | 12″ | 200 | 19″ | 4437.00 |
| 20″ to 32″  | 171919 | 17″ | 12″ | 350 | 19″ | 4322.00 |
| 20″ to 32″  | 171922 | 17″ | 12″ | 450 | 22″ | 4778.00 |
| 32″ to 36″ | 211915 | 21″ | 15″ | 275 | 15″ | 4217.00 |
| 32″ to 36″ | 211919 | 21″ | 15″ | 300 | 19″ | 4329.00 |
| 32″ to 36″ | 211922 | 21″ | 15″ | 450 | 22″ | 4939.00 |
| 36″ plus | 261919 | 26″ | 22″ | 300 | 19″ | 4851.00 |
| 36″ plus | 261922 | 26″ | 22″ | 450 | 22″ | 5381.00 |
| Transom Height Requirements | Model # | Set-Back | Vert Lift | Max HP | Req Width | Retail Price |
| --- | --- | --- | --- | --- | --- | --- |
| 20″ to 32″ | 171741 | 17″ | 12″ | 450 | 41″ | 7,174.00 |
| 20″ to 32″ | 171748 | 17″ | 12″ | 500 | 48″ | 7,844.00 |
| 20″ to 32″ | 171941 | 17″ | 12″ | 500 | 41″ | 7,747.00 |
| 20″ to 32″ | 171948 | 17″ | 12″ | 700 | 48″ | 7,844.00 |
| 32″ to 36″ | 211941 | 21″ | 15″ | 500 | 41″ | 7,844.00 |
| 32″ to 36″ | 211948 | 21″ | 15″ | 600 | 48″ | 8308.00 |
| 20″ to 32″ | 171950 | 17″ | 12″ | 900 | 50″ | 8307.00 |
| 32″ to 36″ | 211950 | 21″ | 15″ | 900 | 50″ | 9,373.00 |
| 36″ plus | 261941 | 26″ | 22″ | 500 | 41″ | 8,708.00 |
| 36″ plus | 261948 | 26″ | 22″ | 600 | 48″ | 8,996.00 |
| 36″ plus | 261950 | 26″ | 22″ | 900 | 50″ | 9,214.00 |
| Transom Height Requirements | Model # | Set-Back | Vert Lift | Max HP | Req Width | Retail Price |
| --- | --- | --- | --- | --- | --- | --- |
| 20″ to 32″ | 171951 | 17″ | 12″ | 900 | 51″ | 10,236.00 |
| 20″ to 32″ | 171967 | 17″ | 12″ | 900 | 67″ | 10,591.00 |
| 20″ to 32″ | 171971 | 17″ | 12″ | 750 | 71″ | 11,069.00 |
| 32″ to 36″ | 211967 | 17″ | 15″ | 750 | 67″ | 12,367.00 |
| 32″ to 36″ | 211971 | 21″ | 15″ | 500 | 41″ | 13,207.00 |
| 36″ plus | 261951 | 26″ | 22″ | 750 | 51″ | 13,207.00 |
| 36″ plus | 261971 | 26″ | 22″ | 900 | 71″ | 13,784.00 |